Hydrangea for Every Garden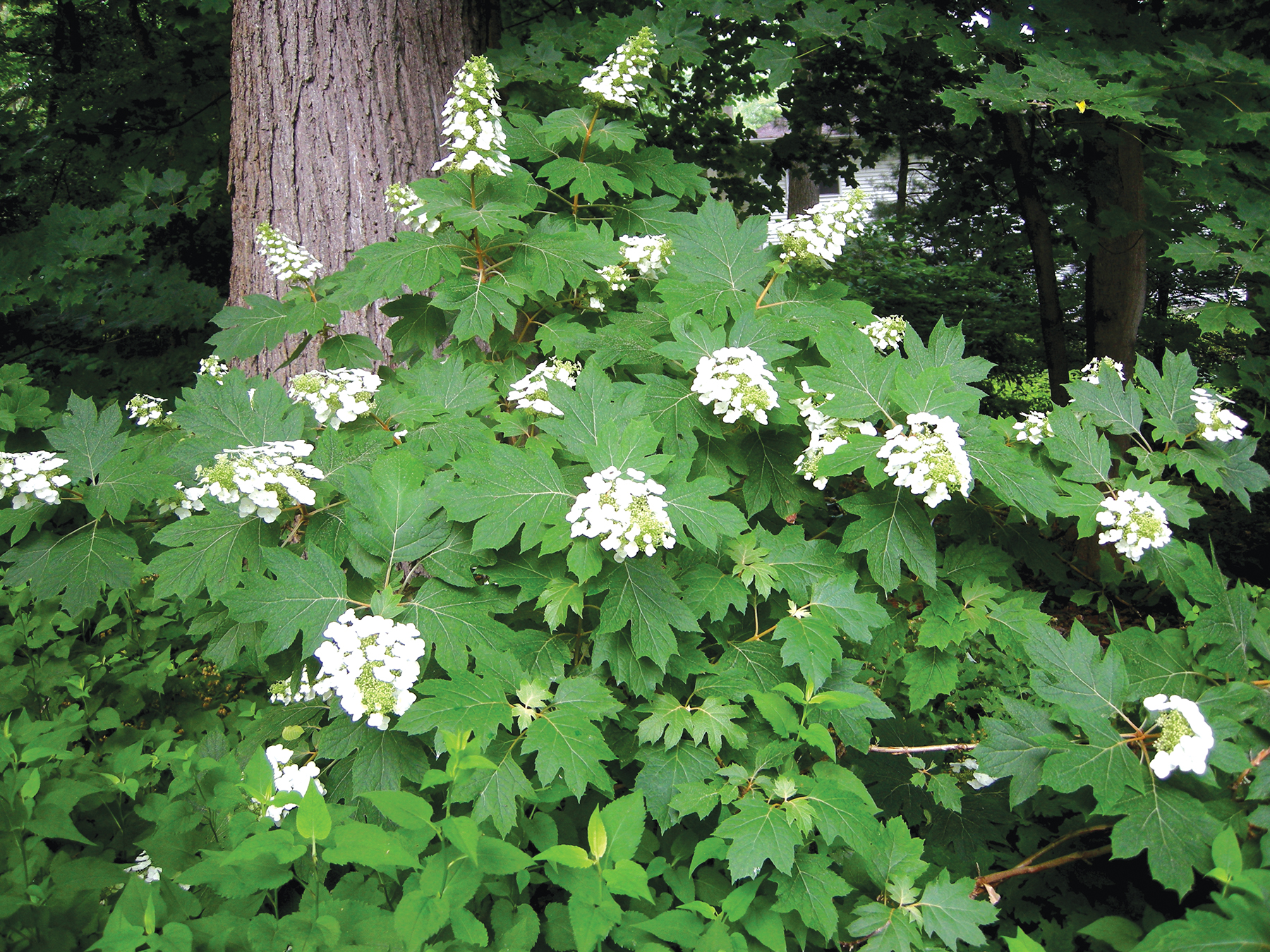 Not far from several bars at Westport in Kansas City is an oakleaf hydrangea that I have admired for many years. No doubt, it has received substantial abuse from late night revelers wandering back to their cars after hours of fun. Yet, this plant is always beautiful with huge flowers in the summer, gorgeous fall foliage and attractive bark in the winter. Given that the conditions of my garden are much more favorable than a bar district, I decided to give it a try.
Hydrangea quercifolia Pee Wee, Sikes Dwarf and Ruby Slippers are now in various places in my landscape. Easy to grow and adaptable to sun or shade and a range of soil conditions, they are thriving. The large panicle flowers open white in June and fade to pink in late summer. Ruby Slippers' flowers turn rose-red. Oakleaf hydrangeas range in height from 2-3' to 8' plus. If necessary, prune immediately after flowering; oakleaf flowers on old wood. Holding on well into winter, the fall foliage is spectacular and is the main reason I have them in my landscape.  While I prefer the smaller maturing ones, other options include the straight species and improved cultivars Alice, Gatsby Pink®, and Snow Queen.
Another easy to grow group of hydrangeas are the paniculatas. PeeGee, Grandiflora, is an old time favorite. Today, Proven Winners and First Editions have numerous new varieties available through their network of growers that bloom on new wood guaranteeing beautiful blooms in a cut flower garden. Paniculatas aren't fussy about soil pH and can tolerate a fair amount of sun. For smaller spaces, Bobo®, Little Lime®, Little Lamb and Little Quick Fire® are popular selections. Limelight is a good selection for large spaces with chartreuse-lime flowers that turn pink in the fall. Vanilla Strawberry™ and Pinky Winky® Hydrangeas have large two toned, pink and white, flowers.
Native to Eastern United States, Hydrangea arborescens has large white ball shaped flowers in the summer and into fall. Annabelle and Incrediball® are two cultivars readily available at garden centers. Easy to grow, arborescens are adaptable to sunny spots with adequate moisture. Flowering on new wood, they are long lasting in the landscape and beautiful in cut flower arrangements. The stems of Annabelle's are not always strong enough to hold up the large flowers and may require propping up. A peony ring works well. Incrediballs® have strong stems that help prevent the flowers from flopping over. Invincibelle® Spirit II is a hot pink blooming arborescens.
Hydrangea macrophyllas, mopheads, produce large colorful ball shaped flowers. Not for the inexperienced gardener or low maintenance landscape, macrophyllas require some attention.  I think they are a bit like Goldilocks in the children's fairy tale necessitating everything to be just right. The right amount of moisture, nutrients, and light are essential. The older varieties of macrophyllas, including Nikko Blue, flower on old wood lessening the likelihood of flowers following a typical Kansas City winter. However, the newer varieties flower on both old and new wood and Endless Summer® was one of the first in production to do this. For many of the macrophyllas, a soil acidifier is necessary to lower the soil's pH for blue flowers. The flowers are pink in an alkaline soil. Edgy Hearts has pink flowers with white margins no matter the pH. Proven Winners' Let's Dance® series and Ball Ornamentals' Next Generation series are smaller maturing mopheads. Similar in needs, serrata and lacecap hydrangeas are also lovely additions to the garden.
Goldilocks type hydrangeas haven't proven hardy in my backyard given my style of gardening.  As we occasionally have loud music playing on the deck and friends and family enjoying a beverage or two, I'm sticking with the hydrangeas that hold up well in Westport.
---
Susan Mertz, Garden Writer and Director of Marketing at Loma Vista Nursery. Join her for tours and photographs of gardens at inthegarden.buzz.
---
To view more hydrangea images, see them in the online version of the April 2016 issue at KCG Apr16 issue.