Tom D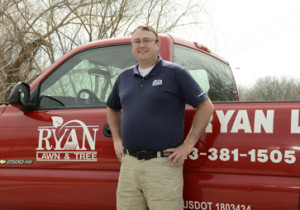 Tom has worked in the tree care industry for more than a decade. After graduating from Kansas State University, where he majored in Parks and Resource Management, Tom took a job at the Overland Park Arboretum. After a year at the arboretum, he began his career at Ryan Lawn & Tree, Overland Park, Kansas. He climbed and pruned trees and shrubs his first three years at RYAN. He was a crew leader for two years before taking his current position, that of consulting arborist.
Tom manages a pruning sales route and meets with customers to discuss their pruning and tree/shrub health needs daily.
Tom is an ISA Certified arborist, and holds a Kansas license as a state certified applicator for ornamentals. Tom judged the Midwest ISA Tree Climbing Competition's throw line event in 2006, 2007 and 2009, and won the event in 2005.
Tom lives in Prairie Village, Kansas, with his wife, Tara and daughter, Fiona. He enjoys spending most weekends in the yard making adjustments to his constantly evolving landscape.