JoCo Master Gardeners set to host international conference June 17-22
International event has drawn more than 1,100 already, organizers say 
Officials planning an international gardening conference in Overland Park in mid-June say the response to this year's event – the first-ever in Kansas – has been exciting.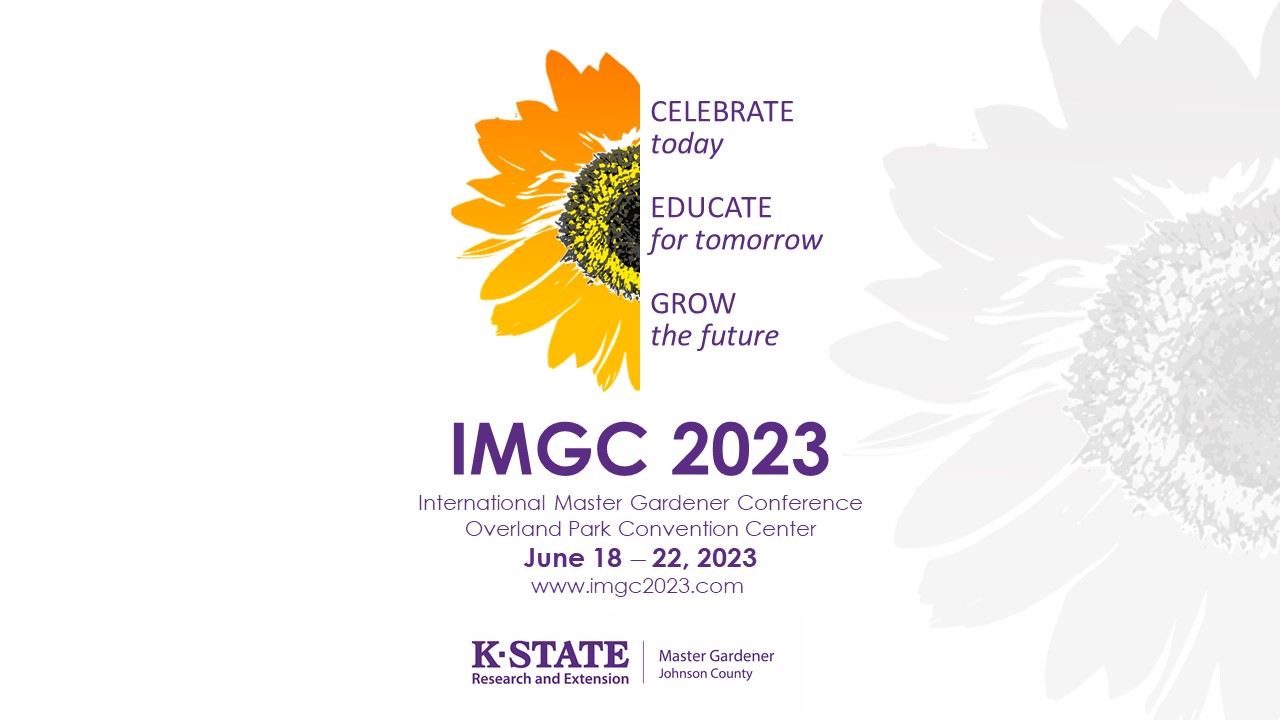 As of mid-May, they say there have been nearly 1,100 registrants for the International Master Gardeners Conference at the Overland Park Convention Center. Participants will come from 43 states, as well as Canada and England. 
"We have been overwhelmed by the response for this conference," said Dennis Patton, a horticulture agent with K-State Research and Extension's Johnson County office. "We are planning to show our guests our Midwest hospitality. Our Extension Master Gardener volunteers are excited to show off Kansas and our local program." 
The June 18-22 conference is hosted by the K-State Extension Master Gardeners of Johnson County and its nearly 500 members. There are nearly 86,000 Master Gardeners in the United States; this is the first in-person conference for this group in nearly four years due to restrictions of the COVID-19 pandemic. 
Registration is still available online at https://imgc2023.com. 
The conference kicks off with local and regional bus tours on June 18-19. Patton said the tours include an overnight trip to gardens in Wichita, Hesston and McPherson; day trips to Manhattan and Topeka; and local tours to garden sites in the Kansas City metro area. 
"One of our goals from the start of planning for this conference was to showcase Kansas, even though we're located in the far eastern side (of the state)," Patton said. 
Conference keynote speakers include:
Monday, June 19 — Jim Richardson, National Geographic photojournalist, Feeding Planet Earth.
 
Tuesday, June 20 – Abra Lee, author and historian, Untold stories of Black Garden History.
 
Wednesday, June 21 — Charles Rice, K-State professor and Nobel Peace Prize winner, Gardening in a Changing Climate.
 
Thursday, June 22 — Jessica Walliser, horticulturist and award-winning author, Plant Partners: Science-Based Companion Planting Strategies for the Vegetable Garden.
 
Thursday, June 22 – Scott Beuerlein, Cincinnati Zoo, writer and humorist, Why Gardens and Gardening Matter. 
Additional talks open to the public include speakers presenting on gardening in England; the monarch butterfly migration; and garden design. 
Patton said the conference also features the Garden Thyme Marketplace trade show, with nearly 100 garden-related vendors. The trade show is free and open to the public. 
More information, including registration and a full conference schedule, is available online.